About MDLUG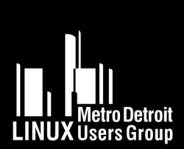 The Metro Detroit Linux Users Group has a long history since the mid 1990s of discussing and demonstrating Linux related products. Professional system administrators,  hobbyists, and complete rookies have made use of the monthly meetings and main mailing list as sources of information and inspiration.
Currently we are a volunteer based organization that meets on the second Saturday of each month.  We welcome everyone to join our mdlug@mdlug.org mailing list, and drop-ins are always welcome at our meetings.
About the Website
The website is hosted by carltm.com.  Please send any feedback or concerns about the website or the mailing lists to carl@carltm.com. In compliance with the Digital Millennium Copyright Act, the agent for notification of claims is Carl Miller, who can be contacted by email.