What's new?

Next Meeting, July 11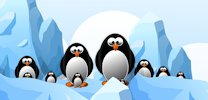 Summertime, and the living is easy.  Join us on Jitsi, who  provides a website for computers and an app for smart phones.  The meeting will take place at https://meet.jit.si/mdlugmeeting at 12:00 noon, and the presentation will start at 1:00.
The topic will be the graphical display on Linux. Carl will talk about X which provides windowing capability, then Pat will talk about window managers which provide the look of the desktop.
Of course we will have plenty of time for open discussion about SciFi, Raspberry Pis, networking and/or whatever.  See you at the meeting!