What's New?

Next Meeting, April 8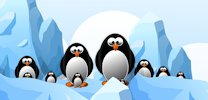 ChatGPT is an artificial intelligence chatbot that can provide amazing responses to requests from humans.  Gib will give us a quick introduction to ChatGPT to promote further discussion by the group.  And I'm sure we'll have enough time to play with it.
Please notice that we will not meet at The Westland Library as it is closed for construction.  The Plymouth District Library will host us until May. We will, as always, be accessible on Jitsi at https://meet.jit.si/mdlugmeeting.  Typically we start gathering at 12:00 noon and continue until 3:00 pm.  (That is EST/EDT for our friends in other time zones.)  If there is a presentation or a selected topic, that will begin at 1:00 pm to give everyone a chance to attend.
Would you like some tips for looking good on conference calls?  Check out this video about prepping a laptop and/or consider getting a device to adjust lighting and hold a smart phone.