What's new?

Next Meeting, October 10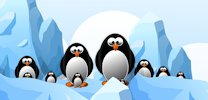 "In the entire circle of the year there are no days so delightful as those of a fine October." – Alexander Smith
Join us on Jitsi, a website for computers and an app for smart phones.  The meeting will take place at https://meet.jit.si/mdlugmeeting at 12:00 noon, and the presentation will start at 1:00.  We'll start with an open discussion and we'll take on any questions.
The presentation will be an encore rendition of a song and dance provided by Pat Baker.  You definitely want to see this!  Pat's extensive use of penguins will provide an astounding chorus in this exceptional display of grandiosity.