What's new?

Next Meeting, June 13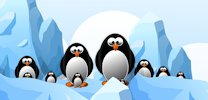 Good news!  There is a video conferencing website built on open source software that allows us to meet online.  Jitsi provides a website for computers and an app for smart phones.  The meeting will take place at https://meet.jit.si/mdlugmeeting at 12:00 noon.
We have not yet selected a topic for a presentation or a main topic for discussion.  Feel free to send us suggestions.
Of course we will have plenty of time for open discussion about SciFi, Raspberry Pis, networking and/or whatever.  See you at the meeting!